Living up to her reputation as one of SA's most celebrated television and radio personalities, Tumi Voster was honoured with a Gauteng Province Premier Youth Excellence and Service Award, this past Saturday, March 10th 2018.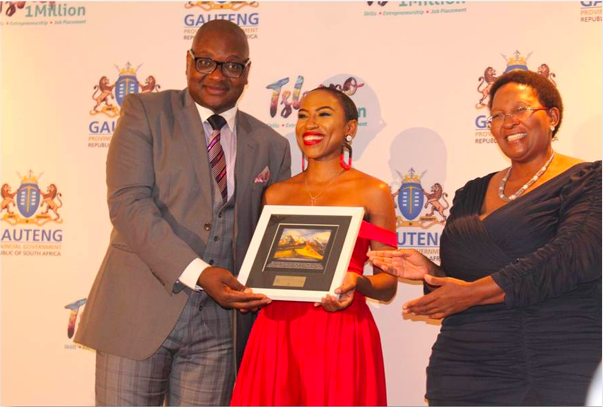 The Awards, which celebrated 24 trailblazers in several categories, including Community and Economic development, entrepreneurship and Tumi's category – Arts and Culture – aims to celebrate the positive role of young people within the province and their contribution to the region's growth and development.
"Thank you to the Gauteng government for celebrating the youth of Gauteng and its excellent young people," said a happy Tumi Voster, "however, most importantly, thank you for recognizing my talent, uniqueness and voice! May we as young people continue to do more to inspire others to remain inspired and driven".
With this latest achievement, Tumi continues to make an indelible mark on the South African media landscape. Prior to this weekend Tumi was included in the Mail& Guardian list of Top 200 Young South Africans in Arts and Entertainment for 2017, as well as a nod from Avance Media's Class of 100 Most Influential Young South Africa list. In addition to her daily hosting duties on the national youth radio platform, 5FM, Tumi also appears on SABC3's wildly popular celebrity game show, Tropika Island of Treasure Season 8.