Must Read! Complete Julius Malema Speech At Winnie Mandela Funeral #WINNIEMANDELA Long live the defiant spirit of Winnie Mandela long live! Forward to expropriation of land without compensation forward! Members of the family in particular Mama Zenani and Mama Zindzi 
Madikizela family and Mandela family 
Religious leaders 
Leadership of the judiciary led by the capable Chief Justice 
Members of parliament 
Members of the executive 
Leadership of the ruling party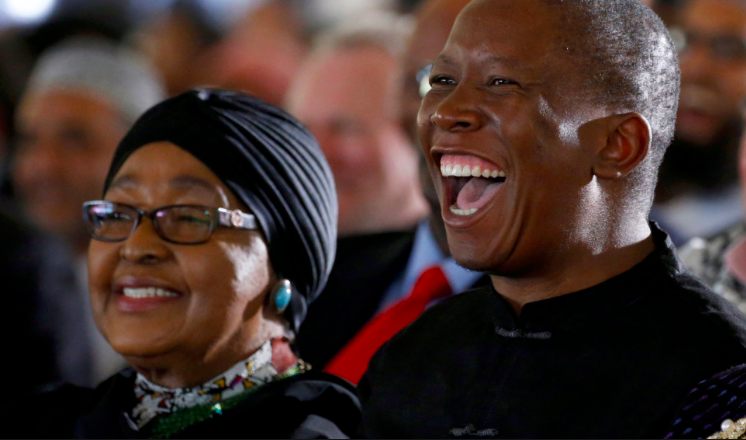 And all political parties present her today 
YL and Cosas 
International dignitaries 
Leadership of the EFF LED by our deputy president Floyd Shivambu 
Commissars, commanders and generals of the glorious people's army Mkhonto Wesiszwe,
Special greetings to the under rated General Sphiwe Nyanda 
Former presidents 
Comrade President Manamela Cyril Ramaphosa 
Salutations to fellow South Africans, Africans and peoples of the world,
Programme directors, I am here to speak on behalf of the Economic Freedom Fighters, the daughters and sons of Mama Nomzamo Madikizela Mandela.
Those prodigal kids, isolated and banished by the liberation movement for asking for land expropriation without compensation, nationalisation of mines and banks, free education and economic freedom in our lifetime.
I'm her to speak on behalf of the dejected masses of our people, I speak on behalf of the landless people, the unemployed youth, the fees must fall generation, the security guards, domestic workers, farmworkers, cleaners, waiters and waitresses, the shop keepers, teacher, nurses and all of those workers who are paid low wages.
I am here not so much to bury Mama, because Queen Mothers do not die, they multiply into a million red flowers of love and freedom.
I am here to pick up her spear, and make my vows that I will continue to fight for a mission of restoring the dignity of black people through attainment of economic freedom in our lifetime.
I am here Mama to express my condolences to your biological children whom I know, and the rest of Madikizela and Mandela family. I am here to look at your grandchildren in the eyes and tell them that they will never be treated like they have leprosy as long am still alive.
I'm here to evoke the spirit of the one who put the country first, above her own personal safety, when it was not fashionable to do so. Many youth activists were personally released by Winnie Mandela from the custody vans of the apartheid military.
She confronted gun-carrying white men who were sworn killers of the apartheid defence force throughout the long years of the state of emergency in the 1980s.
Here, she lived in constant naked contact with danger, prepared to lose her life, even the life of her own children who were put into danger by her political activities.
You trusted that your mission of putting the country first was embraced by an organization you loved but Mama you did not know that your organization had been rendered incapable of loving you back.
You fought for what you believed was right, possessed only by your love for our people and the restoration of their dignity. In this fight you were persecuted by the apartheid regime and disowned by your own.
Fellow South Africans, I am comforted by the fact that Mama died a perfect death; a death of a revolutionary because she never sold out. We should all be happy because her name will be written in the eternal book of life -the book of all who died for the betterment of all
The people of Soweto please never forget the name of Mama Nomzamo and the best way to remember her is to continue the struggle against corruption and for economic freedom in our lifetime.
Mama some of the Winnie Mandela support committee members are here to bid farewell to you, the committee which was formed to support you during the Stompie's trial.
We take this opportunity to thank these selfless fighters, comrade Cyril Jantjies, Dr Abe Nkomo and Ma nkomo, Aubrey Mokoena, Rapu Molekane, Gwen Ramokgopha, Mahomed Dangor, Moss Chikane and Dali Mpofu.
Mama Lebogang Maile is here, the former president of Cosas who bestowed the honorary president of Cosas on you when you were still alive.
The people of Winnie Mandela's squatter camp are here in their numbers because they knew your worth when you were still alive by naming their place after you as their hero.
The entire leadership of the EFF is here because they proudly and unashamedly associated with you and what you stood for while you were still alive, they looked for solutions and guidance from you. Amongst theme mama is Dr Mbuyiseni Ndlozi, the PHD graduate, the one who you attended his celebration. You did so mama because you loved education and wanted the young ones to be educated. Mama you knew that sustainability of economic freedom is going to rely on education. Equally so big mama, some of those who sold you out to the regime are here.
Equally big Mama, some of those who sold you to the regime are here! They are crying louder than all of us who cared for you. Mama the UDF cabal is here! The cabal that rejected and distance itself from you! They are crying crocodile tears after disowning you at a critical moment hoping the regime will finish off. Mama, why did the UDF call a press conference to disassociate themselves from you? Because you were never a member of the UDF, you were a member of the ANC. You were the only one pronouncing the ANC in the 80s. Why did the UDF see the need to disassociate with a person who was not their member? Mama you never told me how to treat them when they get here. I am waiting for a signal mama.
Mama Nomzamo, all those who resigned from the NEC from of the Women's League because they said they could not associate with a 'criminal', they are here! Some of them have played prominent roles in your funeral. In a funeral of a person they called a criminal and a person they were ready to humiliate in front of the whole world. Mma, I'm waiting for a signal on how we should treat them.
Mama, the same people who shot us by not allowing you to pay tribute at the late Peter Mokaba's funeral, despite the fact that you were the President of the ANC Women's League and the women's league was on the programme, and our cries as young activists for you to speak fell on deaf ears.
Life is so unfair Mma because we see these people amongst us today, we don't know what to do because we don't want to be accused of being insensitive and disrespecting your dignified funeral. We mention some of these few incidents just to make them aware that we know what they did to you. They must never think we will forget what they did to you.
We see you in your beautiful suits, betrayers! SELL OUTS! We see you.
Mama, the widows of Marikana are still in tears, what must we tell them mma? We, together with you, promised them a quiet visit, they are still waiting. What do I tell them when the situation is like this? Give us a sign mama, what do we do without you?
Mama you said to us we must come back to the ANC, we heard you. But which ANC do we go to? Of the same people who sold you out? Of the same people who were ready to give you the enemy? Mama why did you leave us? Boa mma. Mma, come back and leave after giving us a signal.
Fellow fighters, let us mourn the death of our mother in a dignified manner. Let us display the highest form of discipline.
We don't need these people to tell us who Winnie Mandela is, Winnie Mandela is our mother, we know her. We don't need George Fivas to tell us about Winnie Mandela, We don't need Stratcom to tell us about Winnie Mandela. We will celebrate Winnie Mandela forever for as long as we are alive.
If it is true that the ANC want to honour Winnie Mandela, name the Cape Town Airport, Winnie Mandela Airport.