Mbeki must be told that Revolutionary theory teaches us there can be no revolutionary movement without revolutionary theory and when theory meets practice we call it praxis. Mbeki must know that I am among those who reject his ill-informed position characterizing Mama Winnie as being reckless..Mbeki is completely out of order.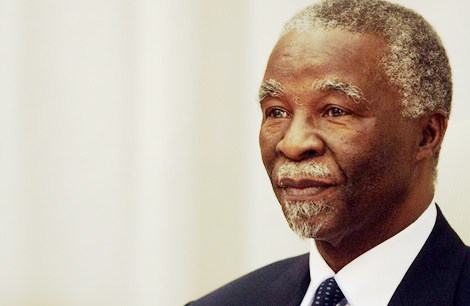 Mama Winnie was shaped by concrete positions. She faced the brutality of the racist regime and all her strategies and tactics to fight the regime were shaped by the actual brutality of that regime .
Mbeki left the country without facing this brutality, Mbeki left the country when he was twenty but he has guts to characterize Mama Winnie as reckless. There is nothing dialectical about Mbeki's armchair theoretical position about Mama Winnie, it is sterile, backward and primitive and I reject it with the contempt it deserves.
Mbeki when asked what does he regret he says he regrets nothing on his part. But if Mbeki was prepared to learn anything he should regret that he is a pole of Neo- Liberalism, he should regret that he refused to give people ARVs, Mbeki should regret that he protected the imperialism and colonialism that maintains white monopoly capital accumulation in our country and which has resulted in the continuation of the racist white monopoly status quo which constitutes his legacy where the very African majority, which is Black and African, continues to be economically marginalized and dispossessed.
He is a symbol of self imposed structural adjustment programmes. It is not difficult to understand why Chris Hani and Mama Winnie were ready to contest him in 1991 in Durban Westville. Mbeki was instrumental in the negotiated settlement which was essentially a deal with capital allowing it to continue to own and control the economy and the ANC, under his watch, sacrificed the whole revolution for empty political power where they would merely run a budget which can't even go beyond 25% of GDP. They wielded and cemented the continuation of this white monopoly accumulation strategy through the bourgeois constitution whose chief architects were Cyril Ramaphosa and Roelf Meyer who together sold us out. Their macroeconomic strategy GEAR is nothing but economic apartheid.
The ANC and Mbeki's legacy we experience is that of austerity measures and privatization resulting in about 40% of South Africans being unemployed (by the expanded definition) and 30.4 Million South Africans with no plate of food as of 2017!
There is nothing Revolutionary about TMs attitude towards Mama Winnie, in fact it is full of patriarchy. Who can forget him
physically pushing her in a stadium, we are still waiting for his apology. I may still respect Mbeki as a veteran of our struggle and there is a lot we must continue to learn from him and Mama Winnie but Mbeki is less than a candidate to critique Mama Winnie's legacy, he must just sit down.
We salute Nomzamo Winifred Madikizela-Mandela. The spear has fallen but we pick it up and continue the class struggle for the total emancipation of the oppressed and dispossessed. Aluta continua!
✊?
#handsoffNOMZAMO #RIPWinnieMandela
By Dali Mpofu