After last week's shock elimination which saw Team Coral (Melinda Bam and Kelly Gunnell) being eliminated, Katlego Maboe (in last night's episode) delivered another Slenda Twist which saw Team Blue, Sbahle Mpisane and Nondu Mabizela, as the lowest scoring team, and ultimately, eliminated from the show.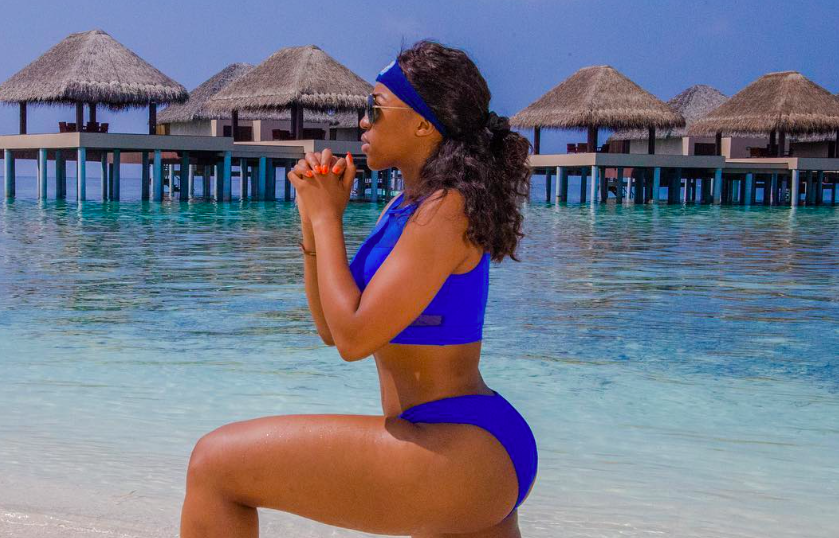 Nondu struggled during a game of 'skim the bottle' and was the last consumer contestant to knock down her three Tropika targets scoring one lonely point. The celebrities then tried their hand at the game which saw Sbahle gaining two points as she placed fourth in the challenge.
The second challenge, named 'How Much Junk Do You Have In Your Trunk?', saw Nondu and Sbahle's unlucky streak continue as Nondu found herself in last place again bagging another single point, while Sbahle found herself in fourth position yet again scoring another two points.
The elimination challenge saw Sbahle, Khanya, Nondu and Lihle fight for their lives in a challenge titled 'Hang In There' in which the four contestants had to literally hold on to their place in the competition. After a nail-biting few minutes, Sbahle fell into the water and lost her place in the competition. A few moments later, Nondu fell in and Team Blue became the third team to be eliminated.
Q&A With Sbahle Mpisane and Nondu Mabizela Shortly After Being Eliminated
What surprised you most about yourself being on TIOT and the island?
Sbahle Mpisane: Being on Tropika Island of Treasure taught me to always have a fighting spirit whether I am ahead of everyone or at the end. What surprised me most about myself is how important it is to stay calm during challenges. I took each day as it came and comforted myself with the fact that it's everyone's game.
Nondu Mabizela: I was quite surprised at how competitive I am but in conjunction with that I realised how resilient I can be. It was also definitely a character building experience that I'm privileged enough to have gone through
Where do you think you could have improved?
Sbahle Mpisane: I thought I was good at swimming but being in the ocean was a totally different thing. I should have focused more on improving my pace there.
Nondu Mabizela: I think that I could've improved in terms of my swimming and overall fitness levels. But, despite this, I am very proud of how far I have come
What was the best thing about being teamed up with your partner?
Sbahle Mpisane: Firstly, I couldn't have asked for a better partner. Nondu is such a positive person and is definitely a go getter. I also think having a girl as my partner made it so much easier to emotionally process a lot of things and to understand and listen to each other. No one was more dominant as I would assume a guy partner would have tried to be (in a pair).
Nondu Mabizela: The best part had to be Sbahle's "never say die" attitude and how she'd always find a positive spin on a seemingly negative situation. We also had this amazing trust in each other and that made it easy to strategise and plan each challenge. To top it all off, it was refreshing to see how down to earth she is and her sense to of humour made my time on the island that much more enjoyable.
Who did you think your biggest competitor was?
Sbahle Mpisane: I'd say our biggest competitor was Team Coral. We can't deny that they were a strong team and perfectly rounded. Their elimination was a shocking one to us all.
Nondu Mabizela: I definitely think that our biggest competitor was Team Yellow -Rudi and Nay. They're a strong team physically and mentally.
Why should people continue to watch TIOT8 for the remainder of the season?
Sbahle Mpisane: All I can say is that #TIOT8 is going to be full of so many surprises and the challenges will only get harder.
Nondu Mabizela: It only gets better. Literally. There are so many more Slenda Twists ahead, a lot of personality growth happens and it's an amazing production in general.
What advice do you wish someone told you before the show?
Sbahle Mpisane: I don't think there is a way to prepare yourself for the show. You can try focus on your swimming and cardio but as you know most challenges didn't even require that. It's a tough game which really challenges you and the lessons you learn about yourself on the island will change how you see yourself as a human.
Nondu Mabizela: Don't underestimate your strength, always trust your gut, and most importantly – learn to laugh at yourself.