DJ Fresh Announced As A Judge On SABC 3 PRESENTER SEARCH! Last week, SABC 3 announced that the quintessential Pabi Moloi will serve as the official host for the new season of Presenter Search on 3 which is proudly brought to you by McCafé and Capitec, and now, the channel is delighted to announce that DJ Fresh, Jeannie D, Sbusiso Kumalo, and Patience Stevens will serve as the official judges for the show's highly-anticipated new season.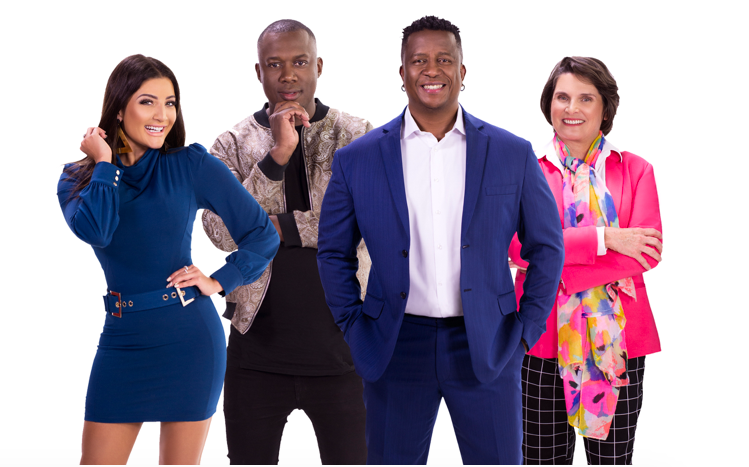 With their vast array of skills in and around the entertainment industry, this eclectic mix of judges will ensure that every aspect of a perfect presenter is honed and highlighted in what promises to be an exciting new season of Presenter Search on 3.
DJ Fresh needs no introduction. He is one of the most formidable radio presenters of our time and has mastered the art of creating interesting, informative and entertaining conversations. From his early days on YFM and Studio Mix on SABC 1, to his prime-time slots on 5FM and Metro FM, this breakfast show host has set the bar high and remains a source of inspiration to presenters around the country. While radio has always been DJ Fresh's first love, his is also a wildly popular club DJ and has presented shows such as Club Culture, Tropika Island Of Treasure and served as a judge on South Africa's Got Talent. His experience behind the mic and in front of the camera helps him understand what makes a great presenter and is excited to help discover new presenters with a passion and a dream for making a difference. "It's such an honour and privilege to be a part of this great movement," DJ Fresh says. "It's not every day you see a brand live up to their promise; the stage is indeed yours, and if you can successfully master that then the world can be yours too."
Jeannie D is no stranger to the SABC 3 screens. She started off her illustrious career as a radio presenter on Good Hope FM and has since become one of the most prestigious presenters in the country. She is a familiar face on SABC 3 shows such as Top Billing, Top Travel, Afternoon Express and Presenter Search on 3. Jeannie will bring her bubbly personality and professionalism to the table as she scours the country for the perfect batch of presenters to join the trendsetting channel. "I've been privileged to be part of the presenter search phenomenon from the beginning and it's such a joy for me to help undiscovered talent fulfil their dreams," Jeannie says. "After all, it is the best job in the world!"
Sbusiso Kumalo is the Head of Marketing at Capitec, one of the headline sponsors of Presenter Search on 3. He is a charismatic and business savvy marketing and brand expert who has over 20 years of experience in marketing and sales, specializing in the black middle-class South African market. As a first-time Presenter Search on 3 judge, Sbusiso is excited to unearth new talent – something he has always been passionate about. "In life everyone has two birthdays, the first one is the day you were born and the second one is the day you discover why you were born. I'm excited to be part of the team that will help someone out there experience their second birthday," Sbusiso says. "Your only limit is your imagination. If all you do is hope for it – your dreams will always be on a waiting list."
Patience Stevens is one of the most respected television producers in the country. She has worked on Top Billingsince its inception 25 years ago – and, along with Tswelopele Productions Chairperson, Basetsana Kumalo, is co-producer of the Top Billing and Pasella lifestyle magazine shows. She is also co-executive producer of Expresso Morning Show and Afternoon Express. Top Billing, Pasella and Expresso are all SAFTA award winning shows, tribute to the production expertise of both Tswelopele and Cardova Productions. Identifying and growing new talent is Patience's passion, and her experience in lifestyle television makes her a valuable player when it comes to the Presenter Search on 3 judging process. "I am looking forward to this exciting opportunity to discover and nurture fresh new talent. As SABC3 says – 'the stage is yours' – and this is our chance to point the spotlight onto new faces, and to give them a chance to excel."
Think you have what it takes to be one of SABC 3's new faces? Make sure you audition for this once-in-a-lifetime opportunity that can change your life for good.
Auditions kicked off in Port Elizabeth this past Sunday and saw hopefuls lining up in their numbers at the Nelson Mandela Bay Stadium. The remaining audition dates are:
Cape Town on Saturday the 7th and Sunday the 8th of April at the Newlands Rugby Stadium.
Durban on Saturday the 14th and Sunday the 15th of April at the Durban Exhibition Centre.
Johannesburg on Friday the 20th, Saturday the 21st and Sunday the 22nd of April at Wanderers Cricket Stadium.
"McCafé is proud to be the sponsor of the Presenter Search on 3 and to provide those #momentsinbetween to up-and-coming presenters. We are looking forward to sharing in their journey whilst they showcase their talent for all South Africans to see" says Daniel Padiachy, McDonald's SA Chief Marketing and Communications Officer.
Old Khaki has also come on board to make sure the contestants look their best as they showcase their talents to the country. "Old Khaki is excited to be joining the Presenter Search on 3 journey to ensure that the contestants are putting their most fashionable foot forward, giving them the opportunity to showcase their unrestricted personality and style," the brand says.
Presenter Search on 3 spring-boarded the careers of the previous winners Simba Mhere (Top Billing), Jonathan Boynton-Lee (Top Billing), Zoë Brown (Expresso), Danilo Acquisto (Afternoon Express and Win a Home) and Jade Hübner (Top Billing) all of whom became household names. Their journeys to stardom started in the queues of Presenter Search on 3 and this season could be the one to change your life.
To enter, simply arrive at the audition venues on the date of the audition and fill out an entry form, which you will get at the registration desk. Visit www.presentersearchon3.com for more details and keep an eye on the official Presenter Search on 3 Facebook, Twitter and Instagram pages for exciting new content and tips from previous winners.
The new season of Presenter Search on 3 premieres on Thursday 10 May at 19:30 on SABC3.