Achievements and milestones during the tenure of President Jacob Zuma! President Jacob Zuma was elected as African National Congress President at the ruling party's National Conference in Polokwane in December 2007, becoming the ANC's candidate for South African President in the 2009 elections. He was elected President of the Republic of South Africa on 6 May 2009 and was inaugurated at the Union Buildings in Pretoria on 9 May 2009.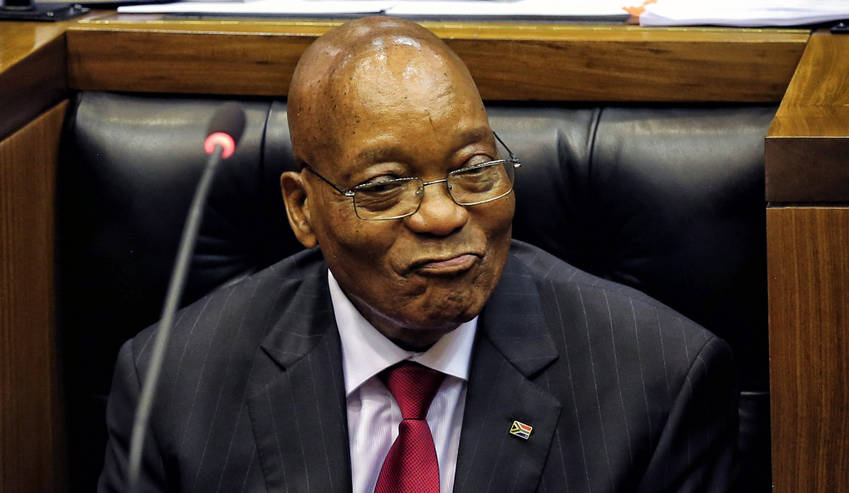 After the 2014 National Elections, President Zuma was inaugurated on 24 May 2014 as the fourth President of the democratic Republic of South Africa, now at the end of his second term as Head of State and Government, where he led efforts in delivering the people of South Africa from the bondage of poverty, hunger, inequality, joblessness, racism as well as the untold human suffering and misery that had been a lingering face of the country even beyond the first democratic elections of 1994.
Taking the baton from former President Thabo Mbeki and President Nelson Mandela before him, President Zuma concretized many of the objectives and goals of the ruling party and the government of the people of South Africa at large.
NATIONAL PLANNING AND MONITORING AND EVALUATION
Among the key achievements of President Zuma is the introduction of long-term planning as well as the mainstreaming of monitoring and evaluation
President Zuma established the Department of Performance Monitoring and Evaluation, and the National Planning Commission, which produced the National Development Plan (NDP) Vision 2030.
The NDP is in the earnest process of eradicating poverty, increase employment and reduce inequality by 2030. Through the NDP, Government has created a pivot around which all department plans and programmes revolved, were given form, content and even importantly, the much needed context and coherence.
The immediate upshot was ensuring that departments focus on measurable targets and track their implementation. The NDP was translated into the Medium Term Strategic Framework to make realisable five year milestones, and the record of achievements shows a government truly at work towards a better country and government for its people.
The President established a Presidential Hotline which is run by the DPME which continues to score successes in dealing with inquiries from the public, and also assists government to determine what issues trouble South Africans. Given his hands-on manner, President Zuma launched the Siyahlola Presidential Monitoring Programme through which he undertook unannounced and scheduled visits to various communities to ascertain progress in delivering services to the people. Coupled with the Imbizo programme, the President promoted direct interaction with the public and citizens.
BASIC SERVICES
Under the leadership of President Zuma, the country has made enormous strides, starting with the basic services, and this has been amply attested to by the General Household Survey 2016.
By last year, South Africa was number one in the world in the delivery of subsidised housing for the poor, with close to 4.5 million houses and subsidies delivered.
Nationally, the percentage of households connected to the electricity supply from the mains has increased from 77,1 per cent in 2002 to 84,2 per cent in 2016.
Households that use electricity for cooking increased from 58,0 per cent in 2002 to 76,8 per cent in 2016.
Households with access to improved sanitation increased from 62,3 per cent in 2002 to 80,9 per cent in 2016.
About 88,8 per cent of households had access to piped water in 2016 even though more still needs to be done in areas such as in Limpopo and Eastern Cape.
SOCIAL GRANTS
To fight poverty, the present administration has provided social assistance to over 17 million poor South Africans through various social grants.
Government provides social assistance through social relief of distress grants, grants-in-aid, child support grant, foster care grant, care dependency grant, war veterans grant, disability grant and the grant for older persons. The grants play a critical role in pushing back poverty and providing much needed safety net for many families.
In 2015 a concerted effort was made to measure the academic performance of matriculates' receiving social grants, and especially children living in Child and Youth Headed families and those in Foster care.
Through the linking of data sets, the evidence demonstrated that despite the challenges experienced by poor children they are completing matric with Distinctions, Bachelors and Diploma passes that gives them entrance into Higher education.
2015 Grade 12 Social Grant beneficiaries' results:
• The total population of learners who wrote Grade 12 exams in 2015 was 644 536.
• 455 922 candidates passed the exams
• Of the 455 922 learners who passed the Grade 12 exams in 2015, 304 913 were social grant recipients
• Of the 304 913 grant recipients who passed matric in 2015, 93 233 (31%) received bachelor's, 130 549 (43%) diploma passes while 81 008 (27%) received higher education certificate passes
In addition, Government also invests heavily in the human capital development of poor children and youth through a number of well targeted social protection interventions such as free primary health care, subsidized Early Childhood Development Centre; no fee schools and school nutrition programme and social grants.
INFRASTRUCTURE
Emerging from a very difficult and capricious economic climate of global recession in 2009, Government unveiled in 2010 the New Growth Path as a new framework for economic policy and the driver of the country's jobs strategy.
Government set in motion a major infrastructure investment programme spending at the time of R120 billion a year on electricity supply, roads, rail, harbours and other economic and social infrastructure.
More than R1 trillion was invested in national infrastructure projects between 2009 and 2014, while R451 billion was spent between 2004 and 2008.
About 18 Strategic Integrated Projects (SIPs) were developed and approved to support economic development and address service delivery.
Each SIP comprised of a large number of specific infrastructure components and programmes.
The Presidential Infrastructure Coordinating Commission was established in September 2011 to accelerate job-creation through public-sector projects, bringing together Ministers, Premiers and Metro Mayors for effective implementation.
In 2012, Government launched the country's multibillion-rand public infrastructure programme under the National Infrastructure Plan.
The National Infrastructure Plan significantly ramped up government's infrastructure drive and included the following major projects among others:
The Grootvlei Power Station in Balfour was re-opened following a R7.2 billion upgrade.
President Zuma opened the R81 road which links Polokwane and Giyani.
Our water supply infrastructure has been boosted with the construction of the Spring Grove dam in KwaZulu-Natal
The De Hoop Dam in Limpopo was completed benefiting more than 800 000 people in the Sekhukhune area in secured and improved domestic water supply.
All these projects made considerable dent in the shortage of jobs in South Africa and provided the youth the necessary work experience that they would have otherwise not had.
EXPANDED PUBLIC WORKS PROGRAMME
The Expanded Public Works Programme has created 941 593 work opportunities for the 2012/13 year (273,938 Full Time Equivalents) up from 550 000 work opportunities in 2009. From April 2010 to March 2011, 89 689 work opportunities had been created throughout the country. Since 2014 the Expanded Public Works Programme (EPWP) created more than two million work opportunities towards the attainment of the target of six million work opportunities by the end of March 2019.
Of the work opportunities created, more than a million have been taken up by the youth.
The Community Works Programme (CWP) has created a total of 159 621 work opportunities from 2009/10 to 2011/12.
The Government has embarked on one of the world's biggest rail transport projects to overhaul the country's passenger trains worth more than R50 billion, which created further economic opportunities.
ECONOMIC GROWTH
Government, working with labour and business, continues to promote an enabling environment for economic growth and development through ensuring policy clarity and promoting investor confidence.
The global economic slowdown leading to slow growth in the country, led government to introduce a Nine Point Plan to reignite growth. Government implements measures to promote economic growth in areas including energy, manufacturing, transport, telecommunications, water, tourism, the ocean economy, mining, agriculture and the Industrial Policy Action Plan. It also includes work such as managing workplace conflict, and successes were scored in restoring stability in the platinum belt in North West province. The region and the country suffered enormous pain when more than 40 people were killed in Marikana near Rustenburg. Government is in discussion with the families of those who died with regards to compensation.
To promote the ease of doing business and attract investments, President Zuma launched the One Stop Shop concept and centres have been opened in Pretoria, Cape Town and Durban. This is an inter-governmental clearing house where investors will be able to register companies, apply for water, electricity or tax. The centres were launched following requests to government by investors who have called for a reduction of red tape and bottlenecks and for government to make South Africa more investor-friendly.
Most potential investors had complained to President Zuma about the time they have to spend visiting different government departments and institutions to fulfil regulatory requirements and the need to simplify the regulatory framework, among others.
Through an array of comprehensive measures such as the Black Industrialist Programme, which was launched and championed by President Zuma, Government has taken concrete steps to increase the footprint of black people in the economy. In 2017, the Department of Trade and Industry supported 31 Black Industrialists then, who planned to invest a total of R3 billion, with a target of a total of 4 416 jobs expected to be created.
This is additional to 36 Black Industrialists supported to the value of R1 billion, creating about 7 000 jobs in the 2016/17 financial year. Government has established the Jobs Fund with a grant funding of more than 6 billion rand in excess, to incentivise the private sector to create more jobs.
President Jacob Zuma launched Operation Phakisa in 2014 in Durban, modelled on the success of the Malaysian "Big Fast Results" methodology, to spur the country's economic transformation. Operation Phakisa is also one of the means of fast-tracking the implementation of the National Development Plan aspects dealing with reigniting growth and job creation and to improve socio-economic services.
As part of Operation Phakisa, government launched the Oceans Economy initiatives to help realise the full potential of the country's marine resources. Other Operation Phakisa initiatives have been launched in the Information and Communication Technologies in Schools, in Health (Building Ideal Clinics), in Mining, Tourism as well as the Agriculture and Rural Development sectors.
During 2014, the current administration also established the Department of Small Businesses Development, placing small businesses and cooperatives at the centre of economic growth and job creation, with particular bias towards the previously disadvantaged people and groups. As part of the radical economic transformation initiatives, in 2017 Government announced new regulations compelling big contractors to share at least 30 per cent of work with black-owned businesses.
The regulations are aimed at growing small enterprises, build township and rural economies and promote local industrial development.
LAND REFORM AND OWNERSHIP
The administration of President Zuma has prioritized the land question in South Africa, with a particular focus on land reform and ownership of land by the poor majority citizens who were disposed during apartheid and colonialism. These efforts culminated in the landmark adoption by the ruling party as its policy, the expropriation of land without compensation at its 54th National Conference in Nasrec, Johannesburg.
The Department of Rural Development and Land Reform (DRDLR) was established in 2009 as a stand-alone department in line with the resolution of the ruling party in Polokwane for the country to have a department dedicated to the social and economic development of rural South Africa.
Government has continued to implement programmes such as Strengthening Relatives Rights of people working and living the land (50/50), committed to support black smallholder farmers, implement a commercialization support programme for 450 black smallholder farmers in the year 2017, and committed to the empowerment of women through all government programs.
FIGHT AGAINST CRIME AND CORRUPTION
Government recorded successes in the fight against crime and corruption during the tenure of President Zuma. Work continued to make South Africans feel safer, working with communities to eradicate crime. The fight against corruption received added attention with allegations that the state was captured by business interests. On 9 January 2018, President Zuma appointed a Commission of Inquiry to look into allegations of State Capture, emanating from the remedial action of the Public Protector. The Commission is headed by Deputy Chief Justice Raymond Zondo.
HEALTH
Life expectancy has increased from 58.8 years in 2007 to 64.3 in 2015 in South Africa while death rate fell from 11.6 to 9.6 over the same period (Institute of Race Relations). South Africans are thus healthier and are living longer.
Many lives have been saved following a dramatic announcement by President Zuma on World Aids Day in 2009, of a new approach to the treatment and management of HIV and AIDS in the country, which included a new treatment regime. South Africa today has the biggest treatment programme in the world with over 3.9 million people on treatment by August 2017.  All HIV positive South Africans now have access to anti-retroviral drugs irrespective of their CD4 count. The treatment has led to increase in life expectancy and low levels of mother-to-child HIV transmission rates.
Very critically, the mother-to-child transmission declined from 8.5 per cent in 2008 to 1.5 per cent in 2015.  As a result, thousands of babies were protected from HIV infection. South Africa will in April 2018 introduce the new fixed-dose combination of three drugs, Tenofovir, Lamivudine and Dolutegravir that will make it easier for patients to adhere to treatment.
Government is making good progress towards universal access to health with the first phase of NHI in its preparatory phase and having started in 2012.
Government has also finalised the infrastructural needs for all 700 health facilities as well as refurbishment and backlog maintenance.
South Africa is still reeling from the shocking and devastating deaths of more than 100 patients who were receiving mental health care in Gauteng province. An arbitration process is underway dealing with this matter.
EDUCATION
In education, the current administration established two new universities, namely the Sol Plaatje University in the Northern Cape and the University of Mpumalanga in the Mpumalanga province, thereby advancing the objective of broadening our children's access to education.
President Zuma's vision also ensured the unbundling of the erstwhile Department of Education to constitute two distinct departments focusing on Basic Education and the second one on Higher Education and Training.
Government has also expanded access to free education for children from poor households.  More than nine million children attend no fee schools, which represents at least 80 percent of our schools. Government's expanded school nutrition programmes in both primary and secondary schools, now reaches over nine million children every school day. The food provided to learners helps to improve concentration and productivity.
Government has expanded access to free education for children from poor households, effectively introducing free higher education for poor South Africans for the first time in history. President Zuma announced free education in December 2017.
From 2009 until January 2017, government has developed and distributed over one hundred and fifty million workbooks to learners from Grade R to Grade 9.
Since 2009 government has progressively worked towards eliminating mud schools and inappropriate school structures, replacing them with state-of-the-art buildings, especially in historically neglected areas. Through the Accelerated Schools Infrastructure Delivery Initiative Project, government has completed over one hundred and thirty five new state-of-the-art schools in the Eastern Cape, Western Cape and other provinces.
Government has also provided sanitation, water and electricity to hundreds more schools.
The National Student Financial Aid Scheme increased from R2.4-billion in 2008 to   R15 billion in 2017.
Individuals with tertiary qualifications increased from 9,3 per cent to 14,0 per cent with 766 812 students having enrolled at higher educational institutions during 2016.
In 2017 over 460 000 students were funded by NSFAS for both university and TVET Colleges.
This is in line with the National Development Plan aimed at increasing higher education enrolments from 17.9 percent in 2012 to 25 percent by 2030.
INTERNATIONAL
Internationally, the President Zuma administration has, through membership to various internal organisations, advanced not only South Africa's aspirations, but the interests of other countries from the developing world, particularly in Africa.
Africa was prioritised and several of State Visits were held with African countries to strengthen relations and deepen cooperation with sister nations in the continent. South Africa also deployed its former Home and Foreign Affairs Minister, Dr Nkosazana Dlamini Zuma as the Chairperson of the African Union Commission, during whose tenure the vision of the continent for the future, Agenda 2063 was launched.
The quest for peace and security in the continent was also pursued, with President Zuma promoting the establishment of an African Standby Force to respond quickly to conflicts in Africa. Recognizing that for the continent to realise fully its socio-economic development, conditions of peace and stability must prevail, President Zuma intensified peace-making initiatives and ensured that the country plays its part to "silence the guns by 2020" as encapsulated in the African Union's Agenda 2063.
Just recently, South Africa commenced its chairship of the Southern Africa Development Community (SADC) under the theme "Partnering with the private sector in developing industry and regional value-chains". The focus is on promoting participation of the private sector in implementing the SADC Regional Industrialization Strategy and Roadmap.
South Africa has consistently ensured that its regional developmental efforts are supportive of Africa's own development agenda such as continuing to create enabling conditions for improved intra-Africa trade. Therefore it remains critical to conclude the Continental Free Trade Area negotiations.
South Africa is a proud member of formations such as the BRICS, which not only altered geopolitics and international political economy which for many years were skewed towards the developed countries of the west. President Zuma also launched the BRICS New Development Bank Africa Regional Centre in Johannesburg last year, which will provide infrastructure and development support to countries in their own national currency. This model will be further strengthened during South Africa's 2018 Chairship of BRICS.
South Africa's strategic partnerships and alliances are therefore yielding significant benefits in contributing to South Africa's own economic transformation agenda. The new partnerships are complementary to the mutual cooperation partnerships we have developed over decades with formations and countries of the North. In this regard, the strengthening of relations with the European Union, the Americas, Asia and other regions remained critical during President Zuma's tenure.
Participation in forums such as the G20 and the World Economic Forum were marked by a heightened and visible presence by South Africa, with President Zuma at the helm.
Similarly, South Africa's chairing of IORA since October 2017, provides the country with an opportunity to advance the Ocean Economy specifically Operation Phakisa objectives. In this regard, South Africa as the incumbent IORA Chair, with the United Arab Emirates as Vice Chair, for the period 2017-2019, adopted the theme "IORA: Uniting the peoples of Africa, Asia, Australasia and the Middle East through enhanced cooperation for peace, stability and sustainable development".  This approach confirms the centrality of Africa's development in the execution of South Africa's international relations programme.
Globally, the South African Government has continued with the advocacy for the reform of the United Nations, particularly the United Nations (UN) Security Council because in its present form it doesn't reflect the global realities. South Africa remains of the firm view that that a truly representative UN can contribute affectively to a world that should be just and equitable and President Zuma articulated this view annually at the UN General Assembly. During this administration, South Africa was again conferred the honour to serve in the UN Human Rights Council for the fourth time, thus confirming the country's efforts as campaigner of Human rights.
Enquiries: Dr Bongani Ngqulunga on 082 308 9373 or [email protected]
Issued by: The Presidency
Pretoria